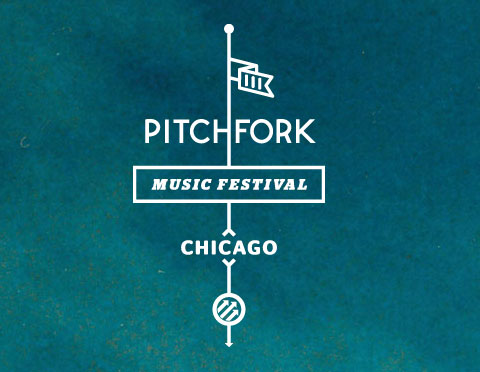 Pitchfork Music Festival (July 15-17, 2011) is one of the things I look forward to every summer and this time around Metal Lungies gets to do it right. If you haven't heard of Pitchfork, it's a smaller (and more reasonably priced) music festival located in Chicago's Grant Park that is known for showcasing both well known and emerging artists. The artists that I'm personally the most excited to see range from Hip Hop to Electronica to Folk so expect a pretty diverse review. Also, on top of being a great platform for experiencing new music, Pitchfork also houses the FLATSTOCK 30 poster show (in relation to the American Poster Institute) which I highly recommend checking out. Talented artists and design coalitions come together and showcase their work and you can see and buy some pretty amazing stuff. If you happen to be joining me at Pitchfork you should check out Delicious Design League's booth where yours truly is interning this summer (a shameless plug, wUtEvR).
Be sure to check back on the blog next week for a final review and pictures. Also, assuming I have cell coverage (fingers crossed), you can follow me at @Meaghatron on Twitter for extra cool stuff.
Here are my picks (which are obviously the best, duh) but I'll be stage hopping because Pitchfork is all about checking out artists you've never heard of:
F R I D A Y . J U L Y  1 5 . 2 0 1 1 – - – - -
RED STAGE
*3:30 EMA
5:30 Thurston Moore
7:20 Neko Case
BLUE STAGE
3:20 Gatekeeper
**4:30 tUnE-yArDs
*5:30 Curren$y
*6:30 Das Racist
*7:30 James Blake
GREEN STAGE
**4:35 Battles
6:25 Guided by Voices
*8:30 Animal Collective
S A T U R D A Y . J U L Y  1 6 . 2 0 1 1 – - – - -
RED STAGE
*1:45 Woods
*3:20 No Age
5:15 Destroyer
7:25 DJ Shadow
BLUE STAGE
1:00 Chrissy Murderbot Feat. MC Zulu
1:55 Sun Airway
2:50 G-Side
*3:45 Wild Nothing
4:45 Off!
*5:45 The Radio Dept.
*6:45 Twin Shadow
7:40 Zola Jesus
GREEN STAGE
1:00 Julianna Barwick
2:30 Cold Cave
*4:15 Gang Gang Dance
6:15 The Dismemberment Plan
*8:30 Fleet Foxes
S U N D A Y . J U L Y  1 7 . 2 0 1 1 – - – - -
RED STAGE
*1:45 Yuck
*3:20 OFWGKTA
5:15 Superchunk
*7:25 Cut Copy
BLUE STAGE
1:00 Darkstar
1:55 How to Dress Well
2:50 Twin Sister
3:45 Shabazz Palaces
4:45 Baths
5:45 Kylesa
*6:45 Toro y Moi
7:40 HEALTH
GREEN STAGE
1:00 The Fresh & Onlys
2:30 Kurt Vile and the Violators
*4:15 Ariel Pink's Haunted Graffiti
*6:15 Deerhunter
*8:30 TV on the Radio
Sphere: Related Content
---
---
---