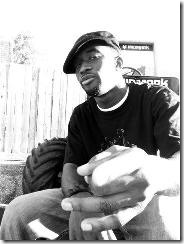 I'm always happy to feature great unsigned or independent artists on ML, especially when they not only reach out to me, but I dig their shit! Soulbrotha is an MC based out of Houston, TX. SB rocks a speedy, almost Bone-Thugs sounding flow over really smooth, soulful beats, mostly produced by his collaborator, DJ Roeg Du Casq. Here's a snippet of his bio as an introduction:
Born and raised in Nigeria, and being exposed to diverse forms of music from folk, 80's pop, reggae, rock and hip hop music inspired a young Soulbrotha to choose hip hop above all other genres as a means to impact his community and the world at large most importantly. This emcee is always bent on "moving the crowd" and makes no excuses for his faith in Jesus Christ, whilst refusing to be pigeonholed into a particular kind of sound. His music can be best described as spiritual, conscious, emotional, and soulful. His first interest in hip hop sparked back in 1987, "when I was first taught the lyrics to the song by Eric B & Rakim's "Paid in Full,"" he recounts, as he emphasizes that this was his first true encounter with music of this genre. Fans can thank his cousin for introducing him to hip hop, as SB recalls that his cousin was the one who always rhymed the words to the song "Paid in Full." At that moment when hip hop graced its presence into his life, he knew that he would never be the same. The rise of Yo! MTV Raps spawned an even greater interest in hip hop for SB, where he then discovered artists such as Slick Rick, Doug E Fresh, LL Cool J, Run DMC, Audio Two, MC Lyte, Salt N' Pepa, Big Daddy Kane, Father MC, Queen Latifah, Lords of the Underground, Naughty By Nature, Snoop, Dr. Dre, and many more that influenced him as an artist.
His first record, The Ezekiel Hanani LP, dropped last year and he's currently prepping a new mixtape, called The Exodus. Cats like Soulbrotha, Lifesavas & Ohmega Watts threaten to give a good name to Christian hip hop.
Here's a couple tracks to give you a taste:
From The Ezekiel Hanani LP- "Dedication"
So very fresh sounding. Love the CL Smooth sample.
From the Music for Agony mixtape – "Realize (ft.Mint Condition)"
You can cop the whole mixtape for free here. ML-approved dopeness.
From the upcoming The Exodus mixtape – "Illuminate" (prod. by Ivan of Hip Hop Is Read!)
Some links:
Soulbrotha's MySpace, where you can stream tracks off all these albums and purchase The Ezekiel Hanani LP (iTunes link/CD Baby)
Sphere: Related Content
---
---
---