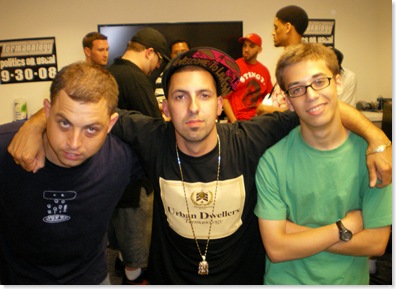 From left to right : My brother Adam, Termanology and me. Notice Term and I are the same height. Peep Statik Selektah in the background.
Last night I was invited by my cousin Dan to a listening party for Termanology's debut, Politics As Usual, coming out September 30th on Nature Sounds.
It was a small, intimate affair. Everyone met on the 4th floor of the EMI office on 6th Avenue and hung out and ate pizza for a bit. Fellow Showoff Records artists Reks and Statik Selektah came through to support. After about a half hour, we went over to the conference room to listen to the record.
Hit the jump for my full recap:
Term addressed the small group of people and explained the importance of the album to him. He discussed the lineup of producers on the album, and talked about wanting to get the producers who worked on his favorite 3 NY rap albums: Illmatic, Reasonable Doubt & Ready To Die.
Term sat in the centre of the room and gave a short introduction to each song before it was played. After the album finished, he let people ask a few questions. One guy asked Term how he got the producers he got for the album. Another asked about marketing ideas for the album. My favorite was the guy who asked how Termanology felt about being so short for a rapper (he's 5'3). Term was mad funny about it and pointed out that Buckshot and Prodigy were both very short but still respected, and that he was still taller than Bushwick Bill. Good stuff.
The album itself? Dope. Pete Rock, Large Professor, Hi-Tek, Havoc, Buckwild, Alchemist and Easy Mo Bee each produce a song. Nottz and DJ Premier get 3 tracks each. The production, needless to say, is bananas.
There are no skits, interludes or outros. There is a short intro, the aforementioned Easy Mo Bee record. It's a really good beat that makes me wonder why he barely produces anymore.
Dan asked me to keep mum about most of the guests on the album, but the guest selection is pretty damn ill. The one guest I'm allowed to tell you about is Bun B, who guests on a very dope DJ Premier produced record. Yep, you read that right. An underground king hooks up with a fellow Houstonian and Termanology and the song is crazy. They're shooting a video for it next week, so look for that.
The Alchemist beat is suitably grimy and dark but the Hi-Tek instrumental actually tops it in griminess and darkness, surprisingly. It sounds very Dre influenced. Nottz' productions on Politics make a strong case for him to be considered in the same class as the other producers on this album.
Buckwild's track is very upbeat and catchy, propelled by ebullient horns. It's just some lighthearted boasting from Term.
The Large Professor record sees Term addressing his fans who waited patiently for the album, and finds him reflecting on his life so far. It's very mellow, with a guitar sample and gently plinking keys. The Pete Rock track is typically warm and soulful. Pete adlibs on it like he used to in the 90s and also does the chorus. Term tells a cautionary tale, this being more a message track.
Two of the Premo produced tracks should already be familiar to most: "Watch How It Go Down" and "So Amazing" both made the album and still sound damn fresh.
The record finishes with a Havoc produced song propelled by grim piano keys and what sounds like sleigh bells. Term talks about how he's changing the change and does some good old-fashioned boasting.
That's not every record on there but it's some of the ones that stood out. I'm going to leave the final track listing a surprise, but you'll definitely be pleasantly surprised by the guests. Politics As Usual comes out September 30th.
Sphere: Related Content
---
---
---