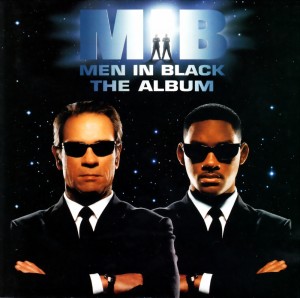 I picked this little gem up yesterday at Unique Thrift.
We all remember the classic film; but what about the album it inspired? This late 90′s comp included the likes of Will Smith, Jermaine Dupri, Snoop Dogg, Ginuwine, a young Alicia Keys, The Roots, D'Angelo, Trey Lorenz (his name will be the answer to a jeopardy question one day), Nas, Emoja, ATCQ, an early Destiny's Child, 3T, De La Soul, Buckshot LeFonque, and the legendary Danny Elfman.
Read the track by track review, after the jump.
The titular single produced by Tone and Poke. Written with a little help from Nas, this ended up being one the repeatable jams of the year when this movie dropped. They even had a hilarious music video directed by Robert Caruso.
2) We Just Wanna Party with You- Snoop Dogg Ft. Jermaine Dupri
JD produced this track, and even provides a pretty decent rap (on par with Money Ain't a Thang). Snoop Dogg, on the other hand, is terrible on this. I can't believe this was a single.
It's a pretty good song if you dig Ginuwine, which I do. The ad-libs are all pretty frustrating.
4) Dah Dee Dah (Sexy Thing)- Alicia Keys
When I first heard this I thought they got the label wrong and this was supposed to be Erykah Badu. Listen to the track and tell me you don't feel the same. This is easily one of the best songs on the album.
More Nas-assisted Big Willie. This track was also produced by Tone and Poke, but has a very different feel from Men In Black. This is more of a throwback to a track like Summertime.
6) The 'Notic – The Roots Feat. D'Angelo
A really dope cut with excellent rapping and a great throwback hook. This track actually contains an uncredited appearance by Erykah Badu, which they reference at the end of the song.
7) Make You Happy- Trey Lorenz
I'm not even gonna lie, this joint is a jam. Don't play this in front of any of your friends though, they might get the idea you want to do more than "hang out". Mariah Carey co-wrote this and sounds like she's singing on it.
I guess Nas had to get a track on here, because of his "contributions" to Will Smith. Unlike Willie's tracks, this is all hard raps with a banger by Tone and Poke.
This is my favorite track on this album. I could listen to this track all day long, and I do. This is one of the greatest jams of ALL TIME.
10) Same Ol' Thing- A Tribe Called Quest
This is a great track, but how was it inspired by anything in the movie?! Only Q-Tip raps on this joint.
11) Killing Time- Destiny's Child
I hate this song and I always skip it. Old Destiny's child sucks. This track is only valuable for archival purposes.
3T is a group that features the three sons of Tito Jackson. That is the most interesting thing about this track. Did they put all the bad tracks at the end of this album?
13) Chanel No. Fever- De La Soul
A very meh track by an otherwise great hip-hop group. The beat is mildly tight. I would only recommend this track for hardcore De La fans.
14) Some Cow Fonque (More Tea, Vicar?)- Buckshot LeFonque
What do you get when you combine a great jazz saxophonist with some of the hottest names in hip-hop? A miss, just like this track. There is an awful video for this.
15+16) Main and Closing Theme
Some of Danny Elfman's fine soundtrack work. You've seen the movie, you know it.
Sphere: Related Content
---
---
---