Friday at Bonnaroo kicked it into the next gear with all tents being joined by the openings of the Which & What Stages.
Our day started out in the Comedy Tent.  The MC and opening act Ian Abramson got the crowed laughing. A part of his set included wearing a fully functioning shock collar he gave to the fan to zap him if the joke fell flat (which the fan didn't have any qualms about). Next was the Bonnaroo veteran,  the over the top Bridgett Everett and her physical shock humor mixed in with showing off her singing chops as well. Note if you ever see her you had any reservations of female nudity & forced close personal contact with a stranger, you are best served not to sit too close to the stage as we learned first hand.  Next was the headliner for the time slot, Piff The Magic Dragon and his sidekick Mr. Piffles the Magic Dog. Once again the hazards of sitting too close in a comedy show made themselves apparent with one fan getting a $20 dollar bill torn in half to make change for a $12 magic trick. Piff was a unique experience that mixed quick witty snark, a dog and magic; a trifecta we mess with.
The day got rolling musically with DAUGHTER the London based trio bringing slow driving folk rock gave us a gentle start to the day. We shortly jetted our way across Centeroo to catch IBEYI. The sister duo of Lisa and Naomi Diaz took inspiration from their Yoruba heritage to bring a blend of soulful percussion & piano mixed with strong hip hop influences to give a perfect fusion of old & new. We had heard of them coming into the festival, and by the time we heard them sample Jay Electronica's 'Better in Tune with Infinite' we were enamored. Afterwards, the much heralded by the interents, Shamir, did not disappoint. The Las Vegas born 21 year old brought his falsetto voice and got the crowd's feet & hips moving with disco-Diana Ross-esq jams like 'Make a Scene &  Youth'. Any doubt of him living up to the hype was put to rest with him taking off his microphone & jumping into the crowd for one last dance party as his band finished the set. 
Our first journey to the What stage was to catch the Glasgow based electro-pop trio CHVRCHES. This marked their debut at What stage having previously played The Other Tent at Bonnaroo 2014. In alignment with the larger venue they came out hard with old hits with instrumentalist Martin Dohrety taking to vocals for 'High Enough To Carry' & Lauren Mayberry taking to the drums on some of the newer material. With our dancing feet still moving we got over to Keys N Krates as the sun began to set on the farm. The turntable, drum and keyboard trio' kept the crowd hype with samples of Tove Lo's 'Stay High'. We were pleased to hear turntablisim incorporated in to their set. Next we got over to That Tent for Long Beach, California's raps from a 19 year old courtesy of  Vince Staples. There we no extra thrills & frills on his set– just a DJ and a mic– the perfect environment to show off his rapping skills and storytelling. All this despite having suffered a asthma attack earlier in the day (!!). He also to be commended for his subtle anti-drug message during his performance. After a brief food break set to Halsey's radio hit 'Colors', we made our way to That Tent for Flosstradamus. If there is an award for the most elaborate DJ stage platform, it would be awarded to them for their 20″ tall prison looking warehouse stage by a barb-wire chain linked fence with stair & ladder access. It wasn't just all presentation though, they even had the kids dance to their edit of 'Macarena'.
Later in the night we got into some of the heavy hitters. M83 got things started for us with hits such as 'Wait' & 'Midnight City'. Despite their impressive muscianship and hard driving performance they faced a mass exodus early into their set as folks migrated for Friday's main headliner: the return of LCD Soundsystem. James Murphy's Brooklyn based rock group brought it in with 'The Time Has Come' and kept the What Stage rocking with hits like 'Daft Punk is Playing at My House'. Murphy bore his sole with his self-conscious hit of 'Losing my Edge', ruined any remaining grass on the farm with dancing hits like 'Dance Yrself Clean' and closed out the set with the sing along rock out hit 'All of Your Friends'. A triumphant return after a 7 year hiatus from the farm. As the clock ticked past 1am Tame Impala took the stage to bring their psychedelic rock to the Bonnaroovian's with their 2nd appearance on the farm. Like CHVRCHES they moved up in stage & production of their set, opening up with a guitar controlled oscilloscope, confetti blasts and more complex lighting production compared to previous performances. Frontman Kevin Parker got things started in reverse to their last album with 'Nangs' and crowd pleaser 'Let It Happen'. He bore his sole & got intimate with the crowd on the slow jam 'Yes I'm Changing 'and closed with the Rhianna-used 'New Person, Same Old Mistakes'. We closed the night with a nutritious serving of Blood Orange. Playing the Other Tent, the most intimate of tents, was the perfect venue for Dev Hynes' passionate r&b . 
Random moments and thoughts:
What year will there be reliable cell service at big gatherings like music festivals?
Pins are huge right now, as we saw kids swapping them like 90s pogs.
DMX's 'Party Up' is entering some rap oldie phase, we heard it twice in sets in one day.
We saw a "Forgive Kanye" sign which is the absolutely right message. You could've even seen the sign if you're following us on snapchat: whut777 (plug!!)
Backwards hat of the day: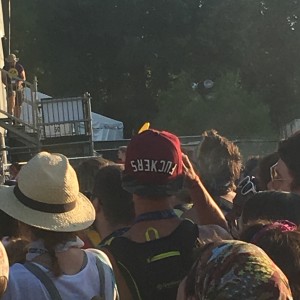 Favorite food item: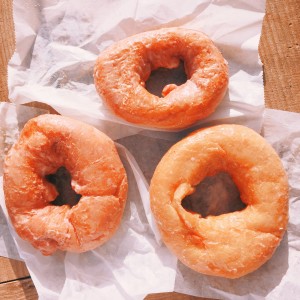 Friday Fitbit steps count: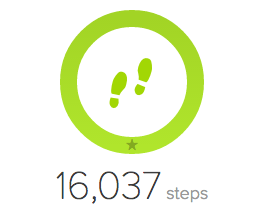 Sphere: Related Content
---
---
---