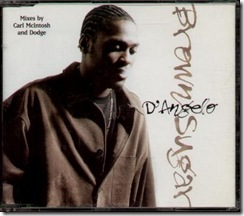 I'm doing something special this month, ML readers! Each Tuesday for the rest of the month, I'm tackling a different D'Angelo remix. I've been covering strictly hip-hop remixes for the last 20 installments (with some guest writeups from Buhizzle), so I'm giving y'all a little R&B flavor for a few weeks.
I'm starting with D'Angelo's 1995 debut single, "Brown Sugar". The original "Brown Sugar" is produced by A Tribe Called Quest producer Ali Shaheed Muhammad. Muhammad uses sleigh bells, organ, guitar and a lazy, grooving bass line on the track and gives it a more hip-hop feel than the rest of the album's tracks. "Brown Sugar" is one of the best songs on a perfect R&B record. It also had a video, which I'm including because of the conversation at the beginning.
Da Beatminerz remixed "Brown Sugar" for the "Cruisin'" 12′ and got Kool G Rap to drop several off-topic yet ill bars just before D sings his 3rd verse.
Here's a sampling of the Kool Genius's verse (you really have to hear him spit it):
Well it's that street flavor neighbor that I smack upon this track
So throw that tobacco outta that Philly, dump in the illy and sit back
And get with bubonic chronic, the pond green bionic
My brown eyes get Chinese, high frequencies like Panasonic
I gets dumb when I hits one, for when you splits one and twists one
If you ain't with getting blitzed son then straight up you missed one
I be high 'til I die, blowing lye smoke up in the sky
Getting bumbed from the trum and hella else from chocolate thai
So fly the friendly get highs, we wise guys with red eyes
Bigger than life sized, for the big pies we terrorize
While getting blunted enemies get hunted, we don't front it
Son if you want it, it'll be a murder mystery like Whodunit
Steady, get ready to step to that next level
Fear this like a daredevil, bounce this and pass a sack to the ear level
So come get with the program as I slam
He run that old flim flam then you can catch a blam blam/ and I don't give a damn
The Beatminerz track samples a beautiful piano loop (also sampled on M.O.P.'s "New York Salute") and uses harder, but not invasive drums. Some warm vibes come in occasionally as well.
The remix is a dope revision of the original that I might actually prefer on occasion to the OG. What do you think?
Download:
D'Angelo – Brown Sugar (Da Beatminerz Remix ft.Kool G Rap)
Sphere: Related Content
---
---
---