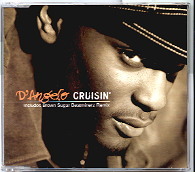 Okay, so I f'ed up. I've been busy and I forgot to write my final entry in the D'Angelo Remix Tuesdays. But I wanted to do D justice by posting my final writeup of D'Angelo Remix Month today, even though today is the first day of August. Ah well.
If you missed the previous 3 instalments of the series:
"Cruisin'" was released as Brown Sugar's 2nd single in 1995. It's a cover of Smokey Robinson's 1979 single. D'Angelo produced the song himself, employing an impressive string section, including violin, viola and cello. Shakers and light drumming are used for the understated percussion, with sleigh bells entering on the chorus. D'Angelo's version is fairly faithful to the original in terms of the basic chords and lyrics, but it's a fair bit longer; at 6:26, the longest song on Brown Sugar. Gentle guitar figures and organ accompany D'Angelo's graceful falsetto singing. "Cruisin'" is a great song for driving on a summer day.
On its 12′ release, "Cruisin'" was edited down to 5 minutes and 24 seconds and remixed by R&B production maven Dallas Austin. Austin strips the song of most of its instrumentation and replaces the live drums and shakers with programmed, 90s R&B style snares and hi-hats. He loops a short snippet of the guitar from the original into a catchy little riff and keeps the string arrangements from the original.
I was actually pleasantly surprised with the Dallas Austin remix. As much as I like the original, I can see Austin's remix going over much better in the clubs or at parties, whereas the original would sound better in the car or at home. Let me know what you think of both versions in the comments!
Download: D'Angelo – Cruisin' (Brown Sugar, 1995)
D'Angelo – Cruisin' (Dallas Austin Remix) (Cruisin' 12?, 1995)
And this marks the end of my month of covering D'Angelo songs exclusively for Remix Tuesdays. I've now covered every single released off Brown Sugar. Did you, the reader, enjoy the focus on one artist for a month? What did you think of D'Angelo Month (not the official title)?
Sphere: Related Content
---
---
---