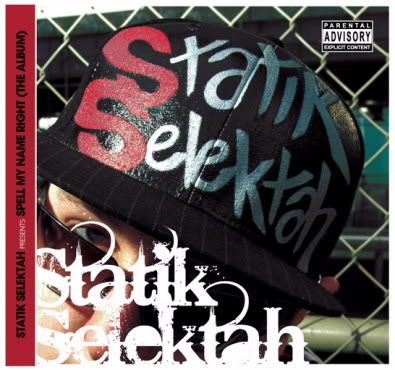 [Dj01 Note- You just read the tracklisting? now the review is ready, you know how we do!] Just who is Statik Selektah? I mean we've all heard his mixtapes, we've all heard the vocal drops on his music, but just who is this guy? A quick glance at Wikipedia and it mentions the basic general info. Who his parents are, how long he's been in the game and what his accomplishments are. Well for one he seems to be Nas' mixtape DJ of choice, which ain't a bad distinction. He also did a joint collaborative effort with DJ Premier and Royce 5'9 on the Bar Exam. And he's dropped 31(31!) mixtapes since 2000 in addition to his mix shows on satellite radio. So from this information I gather 2 things.
He works hard at his craft
He knows how to surround himself with unbelievable lyrical talent.
And those, dear readers, are the reasons why his new album is niiice. DJ Double S jumps behind the boards for all 21 tracks and skits with excellent results. He has the uncanny ability to pick the right emcees for the right beats, which is harder than you think (ask Canibus and Wyclef). Statik (who will be referred to as SS for the remainder) is heavily influenced by the DJ Premier School of production, which in my opinion, is a good thing. But he never comes off as a Premier clone at any point, which is essential to stand out amongst the producer/DJ crowd. He mixes heavy baselines, hard kicks, samples (some obscure, some well known) and a lot off turntable-ism into nice a mix of lush soundscapes. SS even threw in some extra old school nostalgia by Sampling "Mike Tyson's Punchout". Yeah, the video game, while Big Shug verbally batters all comers with "Hit the head, lay down, count to 10 stay down, youz a clown, no doubt, get cha ass punched out". Then he turns around and unites former lyrically nemesis's Cassidy and Freeway for their first collabo to stunning results on "What Would You Do?!". He keeps the ball rolling on the Uncle Murder, Jadakiss, Termanology and Sev-one assisted "G-Shit (Show-Off Mix)" where all the emcees mentioned bring hot lines, but of course Jada steals the show with lyrics like "Send a n**ga up to the mountains to get a broke back" and "Heaven only knows how much that I love Hell". Other standouts are "Back Against the Wall" ft Cormega and Royce 5'9, "Time to Say Goodbye" ft Evidence and Alchemist (which is waaaay too short, easily the hardest beat on the CD, heavy replayability, trust me) and everything else is solid.
He shows off different sounds and styles with his production, but it's still feels fresh and familiar all at the same time. But here come the negatives of the project. On some tracks it feels like he's reaching a bit like "Bam Bam", it's a solid track but it's out of place, just like MIMS is against the rest of the emcees on the project. I liked what he was trying to do with "Hardcore (So You Wanna Be)" but it got a bit preachy and the track sounded mad Killa Army-ish. No southern emcees got any love; you can always get Cee-lo or Scarface to spice up the festivities. Plus! on this advance copy that he keep saying "don't bootleg my sh*t" in the middle of every verse from every emcee which is very annoying. Sh*t got old quick, I only felt like I got half of the album digested because of it. And of course dealing with compilations, it's hard to keep everybody together on one theme from song to song, so while the verses were hot, they were across the spectrum, too. But at this point that's just nitpicking. Solid CD, excellent contributions from everybody involved and it's much better than other DJ helmed projects in recent history (How terrible was that last Clue? Or even Khaled?) I suggest that when this drops ya'll go out and support the cats that's trying to keep real hip hop alive. Statik Selektah is doing his part to uphold tradition. He produced one of the rare true school CD's of the year. Only reasons it can't be rated higher is the fact it's a compilation and when has there ever been a classic compilation? And towards the end get stuck on "I'm Gone/Goodbye" sequencing. But all else aside I give it 7.5 out of 10. The promo free/DJ drop free CD is definitely going in the car this winter. And I'm going to buy it.
Sphere: Related Content
---
---
---