We have arrived to the farm. The shortest day of the festival was also the coolest, temperature wise, and for checking out more under the radar acts.
We kicked off our festival by watching LANY, the poppy modern ballads were perfect for young love…we thought that was a good idea to describe the group when we saw a dude facetiming the entire set. We had to lean in to confirm, because someone needs to be doing music festival investigative journalism, damn it. Shout out to the dude's mobile carrier, too. LOLAWOLF may have been the highlight of the day,  their sound could be described as influenced by someone like M.I.A. with much more crack drums. Their performance of 'Bitch', was something we were replaying in our mind the rest of the day. Vulpeck is what would happen if you cloned Mayer Hawethorne, and those clones were multi-instrumentalists. They had the entire tent signing along. When Hermitude unleashed their Australian dance vibes in  That Tent, we were thinking of the similarities in their vibes to Odesza. Just as we were thinking that, they played their remix of Odesza's 'Say My Name'. The scene was alike to a religious service as the crowd bopped their totems on beat with their original cuts mixed in with fire remixes of Kanye's 'All Day' and Rihanna's 'Work. The Philadelphia electronic duo Marian Hill impressed in The Other Tent. They performed their viral hits like 'Got It' and 'One Time', and did them justice, helped with the incorporation of a live saxophone player. Their performance was one of the special moments that happens more often here then anywhere else, when the performer reciprocates the love and enthusiasm the crowd has show them. Gold Link showed a glimpse why he could be the next biggest rapper out of the hometown, Washington D.C. His live performance was polished to a T. His DJ perfectly hyping up the crowd (not killing time like you see so many pre-rap show DJ sets go), and the by time he hit the stage with his crisply delivered rapid rhymes, the crowd was fully locked in. Gold Link showed the diverse ability to spit rhymes, rock a crowd, and sing.  We finished the night with the best feline0inspired named act in the world Cashmere Cat, who had the most perfect "Blame the cat!" drop. He also showed off his cat like quickness, playing an edit of Travis Scott, Young Thug And Quavo's 'Pick Up The Phone' which just came out last week.  Day 1 served as the perfect appetizer that is Thursday's at the farm, and we headed back to our accommodations to rest up for the main course that is Friday and Saturday.
During Day 1 there was a wide range of random moments and thoughts that entered our mind; here's a quick list:
fans using disposable cameras
a lot bands video that accompanies their performances seem to be a master cut of youtube searches for "nintendo game footage", "90s cartoon", "car crashes", and "nature"
We're still waiting for the crowd to revolt when an act asks them if they'd like to hear a new song performed.
The new permanent bathroom facilities at Centeroo deserve a Pritzker Prize.
A lot of bands are going ALL CAPS for their spellings.
Are glow sticks at a music festival becoming extinct?
If you recall in a previous year we hunted the festival for the best NBA jersey. This year we decided to be on the lookout for the best baseball hat (hopefully backwards, as an ode to legend Fred Durst).
Thursday's pick was a Wawa hat from a dude paying tribute to any mid-atlantic college student's best friend.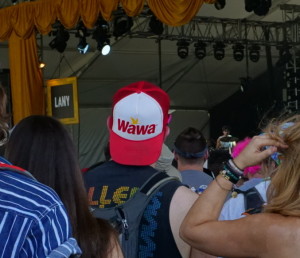 We're also looking for the best food at the festival, so we will be sharing our favorite pick food item, cause eff our dietary restrictions.
Thursday's pick: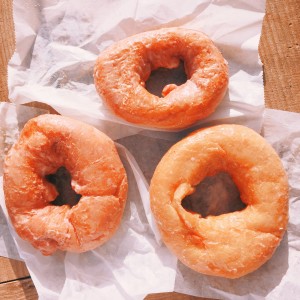 We're still counting our steps on our fitbit and trying to burn cals off from the food pick of the day;
Thursday's total was: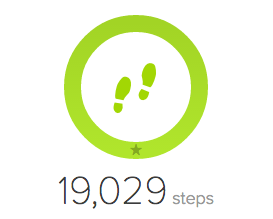 Sphere: Related Content
---
---
---